Hashtags – a guarantee for reach?
Instagram hashtags are crucial to gaining more attention. Well-researched hashtags are a guarantee for reach.
This is the first step to prevail in the competition for followers. However, it is difficult for beginners to keep track of everything.
Yet there is a downside:
Many profiles wither away. Previous tactics no longer have an effect. Users give up.
Fact is:
The reach diminishes. Working with Instagram hashtags is no longer enjoyable.
What can you do?
The relevance of the hashtags is central. Do they fit the image? Are the hashtags relevant for your target group?
First, it's important to dispel the myths and misconceptions. With our Instagram hashtag guide, you will increase the reach of your profile. One aspect is central to this process:
Are you willing to work hard?
Perfect. That is the prerequisite. Your success won't happen overnight. Hashtags are hard work that pays off. You can reach 15 million active Instagram users. This figure only applies to Germany!
Standard Instagram hashtags are not enough to survive here. A strategy adapted to your needs is essential.
Let us begin!
What are Instagram hashtags?
Instagram hashtags are keywords. Any word can basically be a hashtag. Followers recognize hashtags by the hash (#). Subscribers can find the keywords in the image description and the comments.
With hashtags, you increase the discoverability of your posts on social media. Unknown users can thus come across your content.
Currently, the app allows you to use up to 30 Instagram hashtags.
What does that mean in concrete terms?
You can use 30 hashtags. However, this does not mean that you should use the maximum.
My tip:
Test yourself how many hashtags work. This makes more sense than setting a standard.
Why are Instagram hashtags useful?
Do you want to get more followers?
Then you need hashtags. Each hashtag offers the chance to reach more users. Instagram needs hashtags to categorize posts.
However, the small keywords have lost importance over time. Instagram no longer displays posts chronologically. Relevance counts.
Nevertheless, hashtags are an essential ingredient for more success. Without high-quality posts, success is not possible.
Do prospective users like your images? Awesome.
That is a prerequisite. The most effective hashtags won't help otherwise. Boring images lead to fewer interactions.
What is the consequence?
Your visibility decreases. The important keyword is added value.
Hashtags are the key to the top rankings. Instagram highlights 9 posts. These are the popular posts.
Search for a hashtag or location. Then this content will catch your potential follower's eye.
Surely, you ask yourself:
What do I get out of a top ranking?
Your reach increases. Potential followers find your profile. You gain more followers. Furthermore, you become more known in your niche.
Thus, it means:
Instagram hashtags are increasingly suitable for small Instagram profiles. These accounts achieve more reach when used correctly.
Macro influencers (more than 100,000 followers) do not rely on hashtags. Nevertheless, influencers should still utilize hashtags for more followers.
Why are you bitchy, Instagram?
Many users are currently frustrated with hashtags.
Why?
The hashtags do not deliver what they promise.
Do you use 30 Instagram hashtags? Do you still get a few views?
Many people have a similar experience. The Instagram algorithm determines the reach.
That's why you need to rethink your Instagram strategy. The rules of the game have changed fundamentally:
For Instagram posts, relevance is the sole factor that counts. The Facebook subsidiary defines three signals for relevance:
interest

up-to-dateness

relationship to the user
relevant posts + fitting hashtags = more reach
Under which circumstances is a post relevant?
If many people like or comment on your post, your post is relevant. The first ten to fifteen minutes are crucial.
The more users interact with your content, the more people see your post.
Instagram calculates the three criteria individually.
What does that mean?
Your best friend sees different posts than you do. When you comment on multiple posts from an influencer, this content is visible in the "Discover" section.
Where will your post appear on the hashtag page?
It depends on three factors.
amount of users who interact with your post

popularity of the hashtags

day and time of publishing
Thus, the following applies:
Instagram is not to blame. The myths surrounding the algorithm cause confusion.
Let us bring light into the darkness.
The 6 biggest misconceptions around Instagram hashtags
Over time, people have spread many rumors around hashtags. That makes it even more important to clarify what is true – or not:
number of hashtags
Some experts recommend 10 hashtags, while other professionals recommend 30.
What is correct?
The number of hashtags is one of many characteristics. Ultimately, it depends on the relevance of the hashtags. There are some studies that see the optimal number of hashtags at 10.
However, this is not very plausible.
Why should Instagram limit your hashtags to 10?
Finally, your post might be relevant to 30 hashtags.
The hashtags must match the image. If only 10 hashtags match the post, it checks out. This is better than using irrelevant hashtags.
My experience is that more keywords correspond with higher visibility. Only the relevance must fit.
It applies:
Test how many hashtags are effective. Be sure to use multiple hashtags. The exact number depends on the industry.
Always the same hashtags
Would you give each of your children the same name?
No.
Always using the same hashtags is pointless. Content changes. Every video is more or less relevant for other people. Furthermore, Instagram explicitly refers to the guidelines.
If you always use the same hashtags, you are in violation of the guidelines.
Above all, ensure that you only use a few general hashtags. General hashtags are keywords that fit each image.
Finally, the golden rule is that relevance determines visibility.
hashtags with more reach
Some users research a range of keywords with tremendous reach.
What's the idea behind it?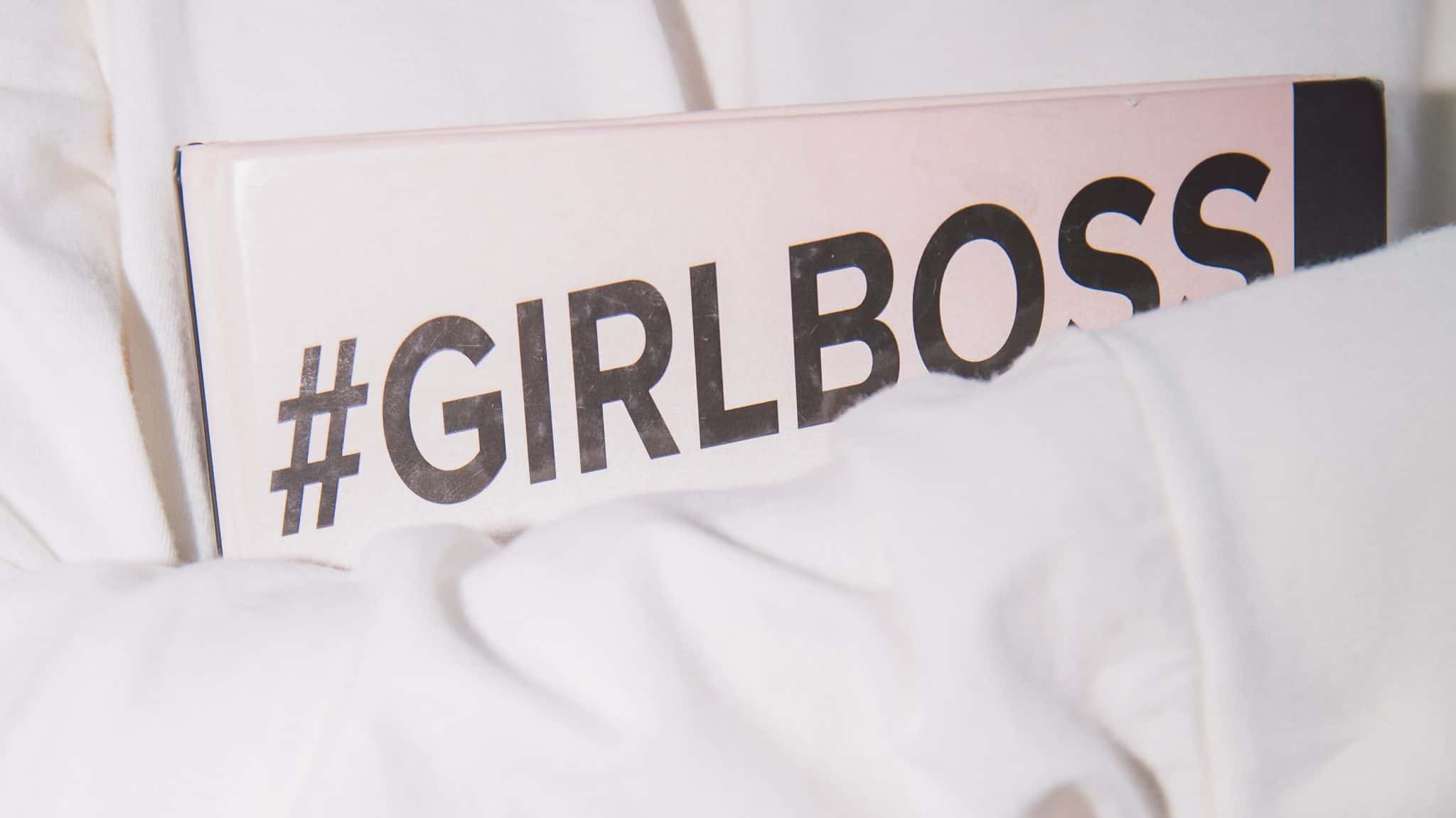 When Instagram displays your content to numerous users for a few minutes, you gain a lot of followers.
But what does it look like in reality?
Does this approach work? Probably not.
The rule is two to three seconds. Subsequently, the post has disappeared into the vastness of the Instagram app.
Dominate small, relevant hashtags.
This provides more reach long-term. Thus, you gain more followers. These subscribers are interested in your content. Then the right people will find you.
My recommendation:
Popular hashtags are suitable for influencers. These hashtags are only worthwhile if you achieve an extremely high interaction rate.
hashtags like #f4f #like4like
Hashtags like #follow4follow originate from Instagram's early years.
Surely you can guess. These hashtags are meaningless. The keywords offer no added value to prospects.
Hashtags like #f4f or #like4like seem disreputable.
Keep your hands off it.
Hashtags are meaningless
This myth is easy to dispel. Studies have shown that posts with a hashtag have 12.6% more interactions.
Those who do not use hashtags are found less often and with greater difficulty.
The algorithm relies on this principle.
engagement / interactions groups are helpful
Instagram evaluates every post according to its quality. Interaction groups try to trick the algorithm. Users end up joining groups. This serves the goal of increasing reach.
How does this concept work?
Users like every post that is published in the engagement group. As a consequence, you will receive a large number of likes. The result is that your reach increases.
Meanwhile, the problem looks like this. Instagram detects users who use interaction groups. Administrators penalize users. The company deletes engagement groups.
My advice:
You can succeed in the short term, with engagement groups. However, use them at your own peril. Focus instead on organic growth. It will pay off more in the long run.
Which Instagram hashtags make sense?
There is no "holy" hashtag that all users utilize. The appropriate hashtag depends on the target audience, interests, and your post. Always consider who you intend to reach on Instagram.
Smaller profiles should use hashtags with a maximum of 50,000 posts. Otherwise, the profile will not be competitive. As your popularity increases, you can choose a mix of popular and easy to rank keywords.
5 hashtag types, which you should now
Social media experts distinguish between five forms of hashtags:
branded,
industry,
location-specific

time-related

and entertainment hashtags.
Surely you ask yourself the question:
How do the hashtags differentiate themselves?
Some companies work every day to increase their Instagram reach. These companies launch branded hashtags. These are keywords that focus on events. Branded hashtags can be events, product releases, or sweepstakes.
For companies, this is an interesting way to attract more attention. User-generated content can give brand hashtags the boost they need. This helps companies promote events and products.
Industry hashtags do not initially put a company in the foreground. Rather, the focus is on interests or topics.
Thus, industry hashtags are primarily relevant for users who are burningly interested in a certain area.
Location-based hashtags make sense for stores, for example. If the furniture store operates in Cologne, a hashtag like #colognefurniture is appropriate.
Entertainment hashtags do not relate to a specific topic. The keywords deepen the relationship with previous subscribers. An example of this is #donotforgettosmile.
The last category are time-related hashtags. These keywords highlight seasons or holidays.
14 Instagram hashtag tips für more awareness
Now let's get to the tips that will get you ahead. Instagram hashtags are a dime a dozen. Very few users find the needle in the haystack.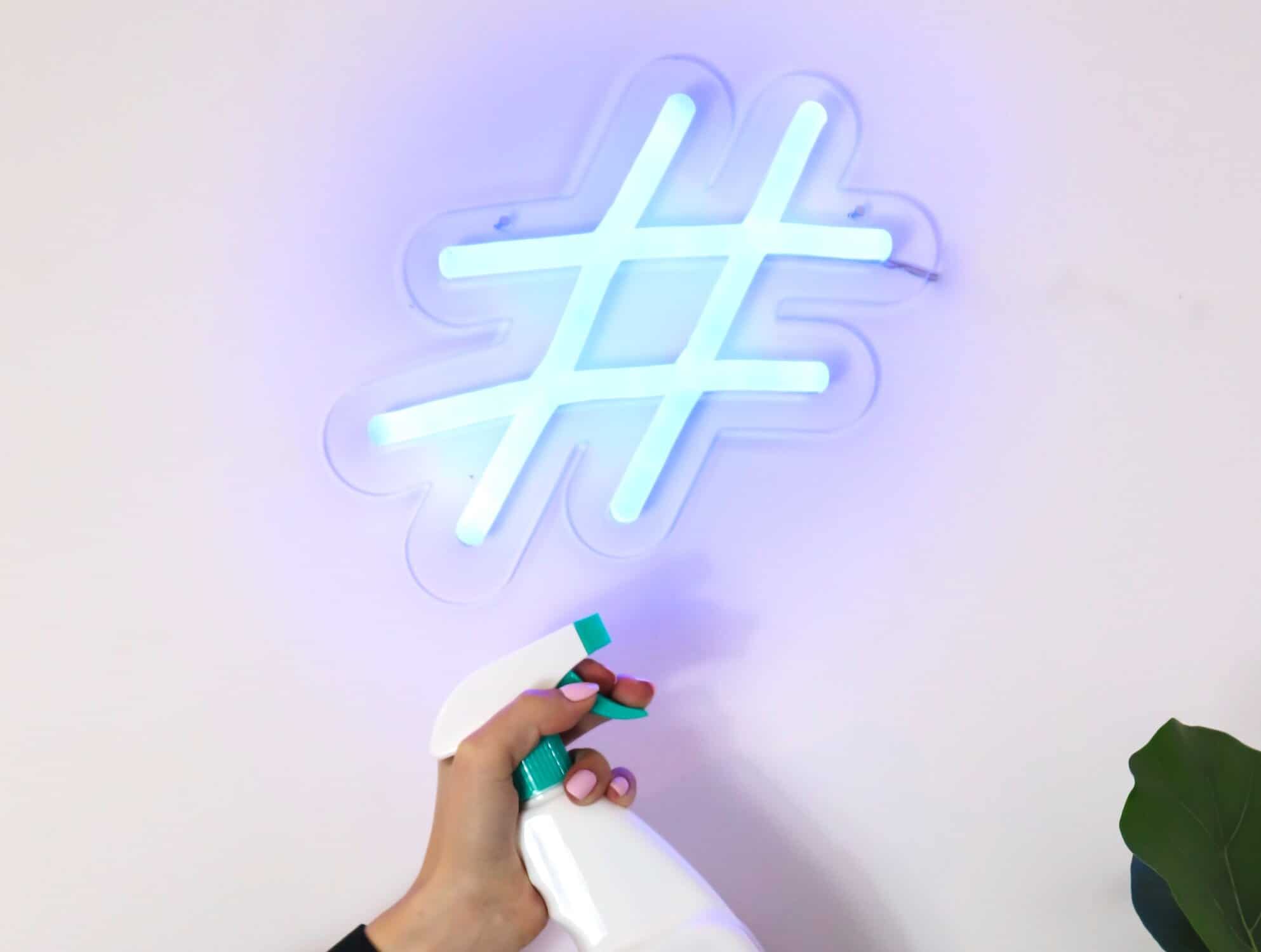 What matters?
Use relevant Instagram hashtags
Always keep your followers in mind.
What hashtags do your followers use?
Adapt your message to your audience. The appropriate users see your content. Thus, you increase the likelihood of attracting more attention.
Let's take a look at one example
You sell coffee to German clients.
How do you reach your target group more effectively?
With the hashtag #coffeelovers or #kaffeeliebe. (German for coffee love)
Of course, it's coffee love. Germans are more likely to search in German. For this reason, German hashtags make sense.
Another example is an electronics store. Should this store use the hashtag #coffeelove?
Of course not. Then the post is not relevant for the hashtag.
Attention:
Instagram users can hide your content under the hashtag.
Click on the three dots displayed at the top right of the post. Select the "Do not show this post for this hashtag" option in the next step.
Instagram then no longer displays the post. If several users hide your content, the post's reach will likely decrease.
Nevertheless, this is speculation. However, there is no shadowban. This concept belongs to the realm of rumors.
How to set up a business profile
Why is a business profile so critical? Statistics are the answer. For example, you can analyze the most successful posts.
You can track how prospects become aware of your post. Click the "View Insights" option to access it. You can find this option under each Instagram post.
Now you can see how many users have discovered the post via Instagram hashtags. A long-term analysis shows which hashtags work.
Follow hashtags
You can follow hashtags. That way, you'll see matching posts in your Instagram feed.
What are the benefits?
Instagram displays relevant content for you. This saves time. You don't have to search for new content.
You'll know at a glance what content performs well for hashtags. This tactic may be necessary for keeping an eye on competitors.
Use hashtags in stories
Many social media users don't realize it. Appropriate hashtags can significantly improve story reach.
Hashtag stickers do the trick. With this sticker, you can tag a hashtag. If you insert hashtags in the text, you can even use up to 10 hashtags.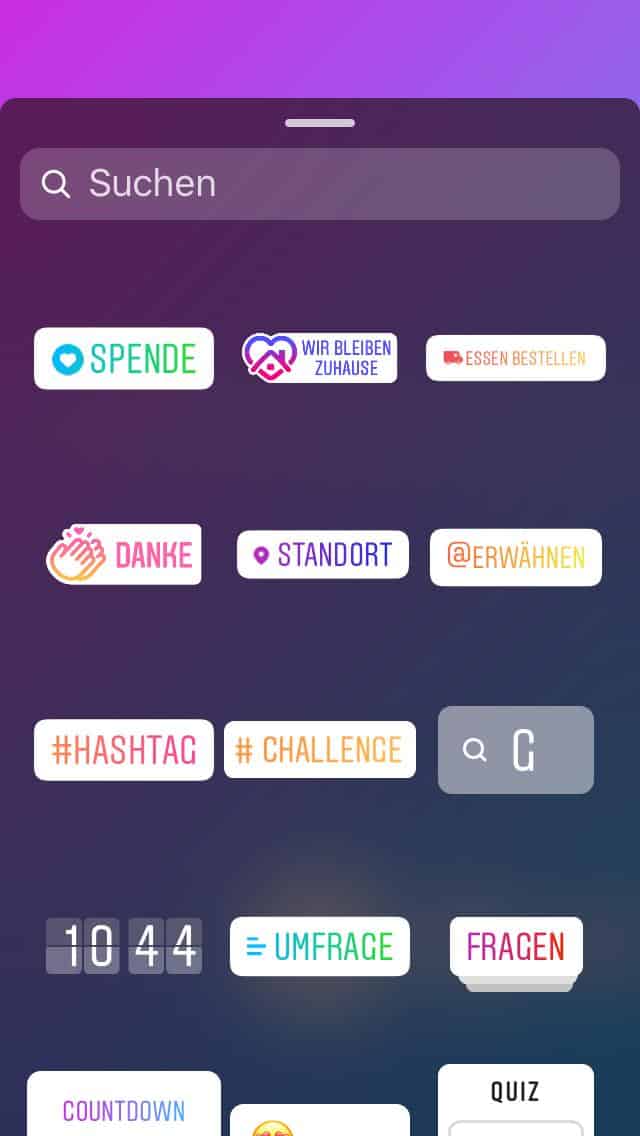 Many users are unaware that Instagram features Stories in the search area.
Where exactly?
Users can view stories under any hashtag and location. This is an excellent opportunity to reach more users.
Create your own hashtag
You can attract attention with your hashtag. Many brands use the function. For example, brands use it to get in touch with other users.
However, influencers and self-employed people can also use their hashtags.
The function offers many advantages:
successful campaign analysis,
interaction with followers during live events,
increase of brand awareness and
contests.
Place your brand hashtags in the profile description. This encourages people to use the hashtag.
Research hashtags
The proof of the pudding is in the eating. Nothing is more applicable to hashtags. Researching hashtags is critical.
What do you have to consider?
Initially, choose only less popular hashtags. These are keywords with a maximum of 50,000 posts.
Take a close look at the top posts. Does your image align with the other top posts?
That's what matters.
Be sure to use the Instagram search!
When you research hashtags, Instagram automatically presents you with similar keywords. Furthermore, you can see the number of posts.


The most successful posts are crucial. How does this content distinguish itself from "standard" posts?
That's what you need to find out.
It may be useful for you to look at influencer profiles. These are primarily professionals who understand the art of hashtags. Adapt your strategy to these competitors!
In no time, you will be successful.
It is all in the mix!
Has your profile reached a size of 10,000 followers?
Then it is worth experimenting.
Use a mix of high-reach and niche hashtags.
For which hashtags have you already been able to achieve a top ranking?
Maybe there are already more significant hashtags you can dominate. The more users view your post, the better.
Generic hashtags in moderation
Does it make sense to use generic hashtags?
Yes, but in moderation.
Hashtags like #fashion make sense for major profiles. The prerequisite is that the hashtags fit the post. The relevance for the target group is crucial.
General hashtags are relevant to a wider audience.
This has advantages and disadvantages:
You reach significantly more people. Your post ought to be of interest to a mass audience. Did you target a niche previously? You may find this difficult then.
Plan unerringly
Plan hashtags for several weeks in advance.
Why?
It will cost you less time. Make a list of appropriate hashtags. Focus on hashtags that fit your field.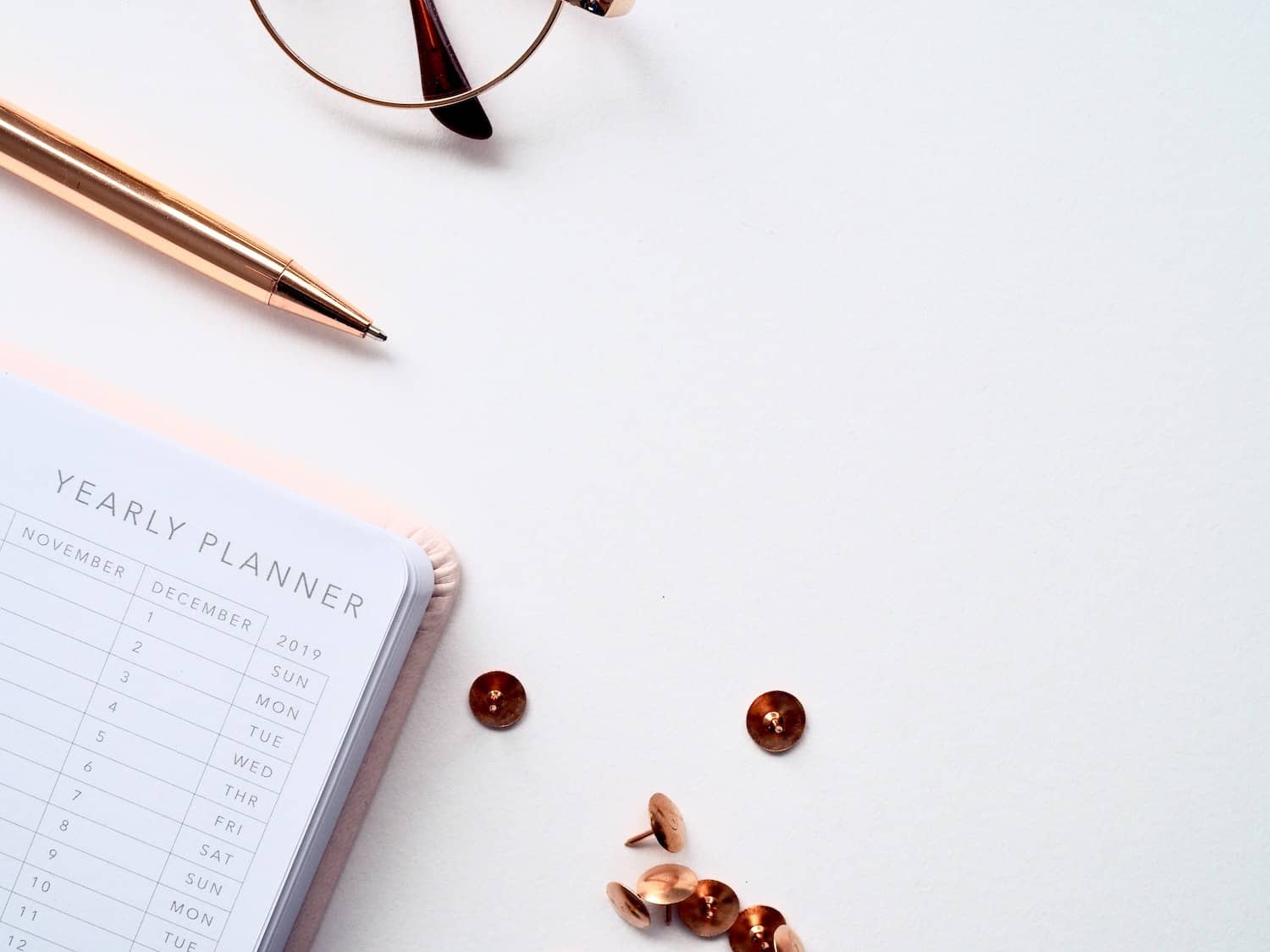 After 2 to 3 months, you should update the list—the popularity of hashtags changes over time. You need to take that into account.
Pay particular attention to:
the number of posts,
the top posts for the hashtag and
the average of likes per top post
Your goal must always be a top ranking. With a suitable list, the work will become easier for you.
Is that too much stress for you?
You'll find a list of fitting hashtags at the end of this article.
Use hashtags in your profile description
You can add hashtags to your Instagram profile. This will provide you with more visibility in searches.
Be sure to use brand hashtags in your profile description. With a call-to-action, you can encourage followers to share your hashtag.
This generates brand awareness. Furthermore, you deepen the relationship with your followers.
Keep your brand hashtags short and sweet
Is your hashtag longer than 15 characters?
The probability increases that fewer users will be able to remember the keyword.
Be sure to use a catchy term.
#justdoit is a good example. The hashtag contains the slogan. Furthermore, it is a short message that users associate with the brand.
Let this be your inspiration.
My tip:
Write several versions. My experience is that the first idea is not necessarily the best.
Add new hashtags to published posts
Haven't you maxed out 30 hashtags yet? As mentioned above, you don't need to.
Can you think of any appropriate hashtags afterward?
Then you can easily add them to the profile.
This tactic can give your posts an extra boost. For many users, this is worth considering.
Focus on the interaction rate
Exchange ideas with your followers.
Optimize your content for your target audience. Ask your followers what content they want to see.
Then your interaction rate increases. As a result, you are more competitive.
Insider tip: experiment with emoji hashtags
Emoji hashtags provide more reach. This way, you can also get a top ranking for terms with a broad reach.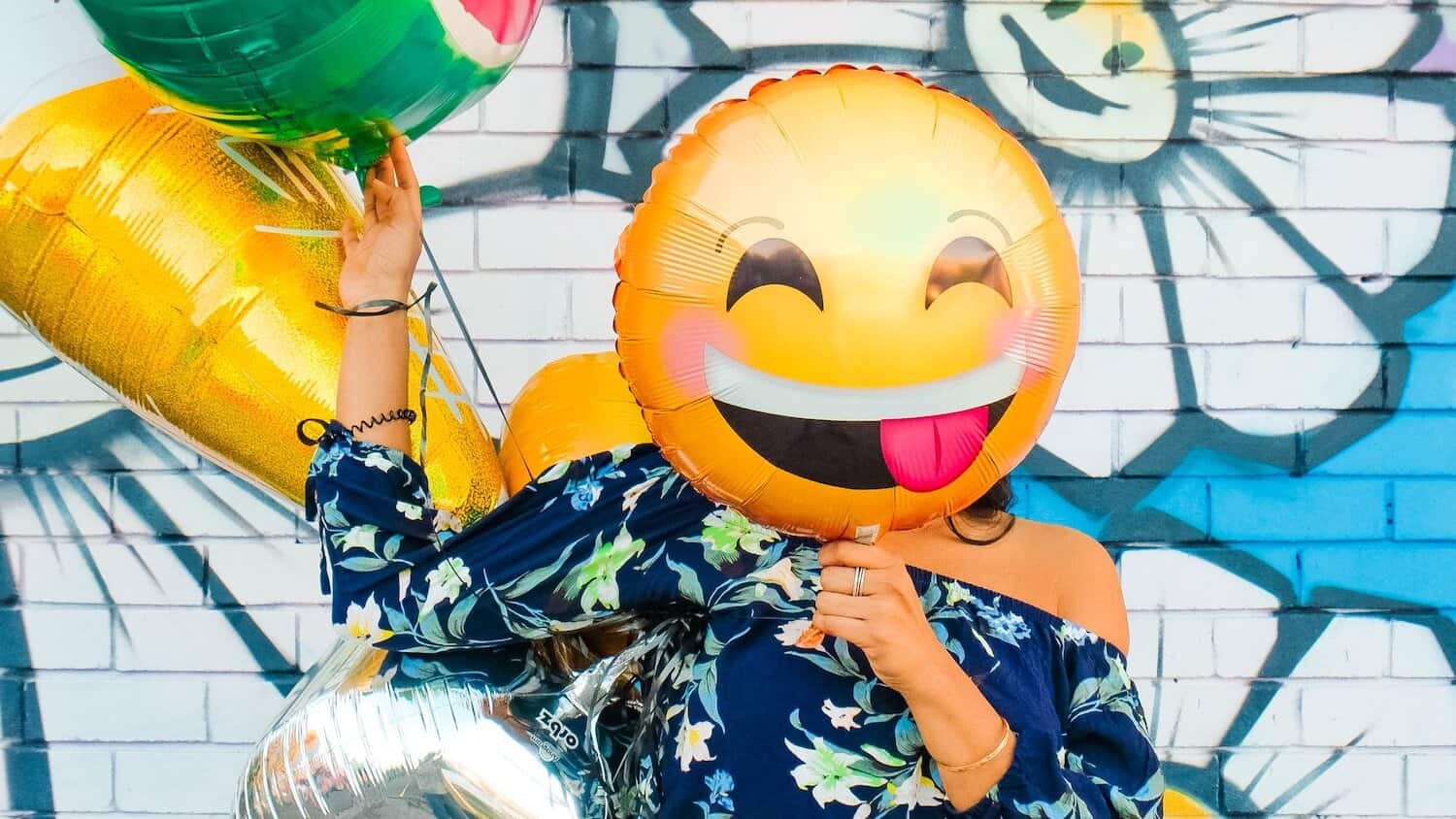 An emoji can make all the difference.
Let me illustrate this with an example.
The hashtag #newyorkcity has 27,543,252 posts. The hashtag #newyorkcity with the Statue of Liberty emoji has only 28,962 posts.
Thus, even small profiles have the chance to share their experiences in New York.
Hashtags in the comments or image description?
Do hashtags in the comments achieve less reach?
Is that true? No, that's a misconception.
There are two options:
The hashtags are published in the image description.
You comment on your post with the planned hashtags.
Where you place the hashtags is up to you. I find the placement in the comments more appealing.
The image description quickly looks cluttered with so many hashtags.
However, there is a remedy here.
You can hide the hashtags in the image description. This is also possible via the comments.
How does the whole thing work?
Hide hashtags in the comments
Post your content as you usually would. However, do not add hashtags to the image description.
The post is published. Now comment on the image with your hashtags.
Do you receive multiple comments? Then your hashtags are no longer visible.
Hide hashtags in the image description
You can hide hashtags in the image description. How?
By adding enough lines.
Click Enter to do this.
Add a hyphen, period, etc.
Implement this for five paragraphs.
Now add your hashtags.
Instagram hides your content after three lines. Followers won't see the hashtags until you tap the "Show more" option.
Some followers look more closely at the image description. For this reason, I recommend using it in the comments. However, as I said, this is a matter of taste.
Popular Instagram hashtags
People like you and me use popular Instagram hashtags. But why aren't these keywords worthwhile for most users?
There are a staggering 9,768,610 posts for the hashtag #frankfurt.
This means:
There are too many posts published every minute.
There is hardly a chance to land in the top posts for users with few followers.
The competition is too enormous.
Thus, it applies:
In the beginning, it makes sense to fall back on less popular hashtags. The dwell time in the top posts increases. This ensures that more users see your posts.
In a nutshell: Targeted hashtags are perfect. This will help you reach prospects who are excited about your content.
Why you should never use these hashtags
Not all hashtags are created equal. Some keywords are not in your interest.
Why is this the case?
Instagram blocks hashtags. Blocked hashtags are for example cuss words or obscene terms. Instagram bans hashtags that are used for shenanigans.
Some users claim that blocked hashtags reduce the reach.
There is no proof of this.
Consider the following case:
Instagram classifies the post as relevant. Then a misplaced hashtag won't make a difference.
Instagram hashtags apps: These are the best programs
What would working on Instagram be like without apps?
In any case, the analysis and research of suitable hashtags would be more complicated.
You should take a closer look at the following apps:
PreviewApp
Later
Keyhole
Hashtagify
Ritetag
Tag for Likes Pro
With PreviewApp, it is possible to save a variety of hashtags. Furthermore, the app tests hashtags for success. You can export your posts, including hashtags.
Later offers the option "saved captions." What is it? This is a text element that you reuse frequently. It can also be a group of hashtags. Thus, it is easy to add suitable keywords.
Keyhole enables detailed information about each hashtag. Especially the reach and views per hashtag are interesting.
Hashtagify lets you track the popularity of a hashtag over some time.
Ritetag automatically suggests suitable hashtags for every image. Furthermore, a connection with other social media tools is possible.
Would you like to find hashtags more easily? Then Tag for Likes Pro may be the right program for you. It is possible to create custom hashtag lists.
Top Instagram hashtags for your success
Would you like to save yourself some work? Then the following list can serve you as inspiration.
But beware:
The popularity of hashtags can change quickly. Therefore, our hashtag list cannot replace extensive research.
The golden rule for hashtags is:
Only use hashtags of relevance to your brand, industry, and audience.
May you do well!
Fashion:
 #superoutfit #stilsicher #modischlifestyle #modisch 
 #deutschemode #sportkleidung #bloggermode #meinoutfit 
 #outfitdestages #meinlook #meinstil #meinstilmix 
 #frühlingsmode #frauenmode #sommerlook #schuhliebe 
 #schuhemachenglücklich #sommerstyle #frühlingsoutfit #neueschuhe
Travel:
 #reisefreude #reisenmachtsüchtig #reisenmachtglücklich 
 #reisenmachtspass #reisenmachtspaß #reisenmachtfrei 
 #reisenmitbaby #reisenmithund #reisender 
 #reisenstattferien #reisenfürweltentdecker #reisenindeutschland 
 #reisenistleben #wohnmobilreisen #reisenmitkleinkind #reisenverbindet 
 #motorradreisen #reisenbildet #radreisen #alleinereisen 
Entrepreneurship:
 #selbstaendig #selbstständigkeit #selbstständigmachen 
 #selbstständige #selbstständigwerden #unternehmergeist 
 #unternehmerinnen #unternehmerwissen #unternehmermindset 
 #unternehmertipps #unternehmerleben #unternehmerzitate 
 #freiberuflich #freiberufler #freiberuflerin #selbstundständig 
 #erfolgsmindset #zieleverfolgen 
Fitness:
 #fitnessgoal #fitnessgoals #fitnesslife 
 #stayfit #stayfitandhealthy #stayfiteveryday #becomefitness 
 #gainmuscles #definemuscles 
 #morefitness #fitfitness #fitbodyguide 
 #dosports #dosport