What is Influencer Marketing?
Influencers have increasingly appeared in the media in recent years. Journalists often mention the numerous advantages for companies. The sales increase is only one of many factors that make influencer marketing interesting for companies.
Furthermore, influencers facilitate companies to increase their awareness and reach. In addition, a purposeful influence of the target group is possible for enterprises.
However, there is still a lack of clarity on what the term Influencer Marketing means.
Influencer marketing describes the possibility of spreading advertising messages on social media.
Influencer marketing is mainly carried out by people with high name recognition who have established themselves as experts in their niche.
These users are also known as influencers.
Influencer marketing resembles, in particular, word of mouth marketing and referral marketing. The significant difference is the multiplicator function of the message.
Influencers increase the reach of an advertising message by a significant margin.
Then the company's advertising message reaches, at best, not only the influencer's target group but also other users with similar interests.
This effect is of interest to companies. Influencers can reach a 5 to 6-digit target group under certain circumstances.
Most influencers deal with one or two specific areas. These areas are often fashion and travel.
This has the advantage that a more precise definition of the target group is possible. If a company intends to hire an influencer with a travel profile, these users primarily address people interested in the travel area.

Does influencer marketing work for businesses?
1. Yes!
Influencer marketing works. Choosing the right influencers is crucial. You can read here how to select the exemplary advertising ambassadors for your brand.
The German Association for the Digital Economy study points out the importance and effectiveness of influencer marketing.
One in six Internet users hits pay dirt with influencers when searching for information.
This indicates the immense value that these users have for selling products.
2. What percentage of people already buy products on an influencer's recommendation?
One in six online users aged 14 to 29 subsequently buys a product that influencers have promoted.
However, the older target group becomes more interesting for influencer marketing.
7% of 30 to 49-year-olds have already bought a product on the recommendation of influencers.
Therefore, from a corporate perspective, influencer marketing is particularly interesting for companies with a younger target group.
Have you already purchased a product promoted by influencers?
Thus, a hotel can potentially reach millions of people. You can expect an increase in the number of hotel nights afterward.
A straightforward calculation example demonstrates the benefit. An influencer publishes a post for your company, with a total reach of 50,000 people.
If every 100th person buys a product subsequently, you will sell 50 additional products.
Even if you sell fewer products, you can still count on a significant spike in awareness on and offline.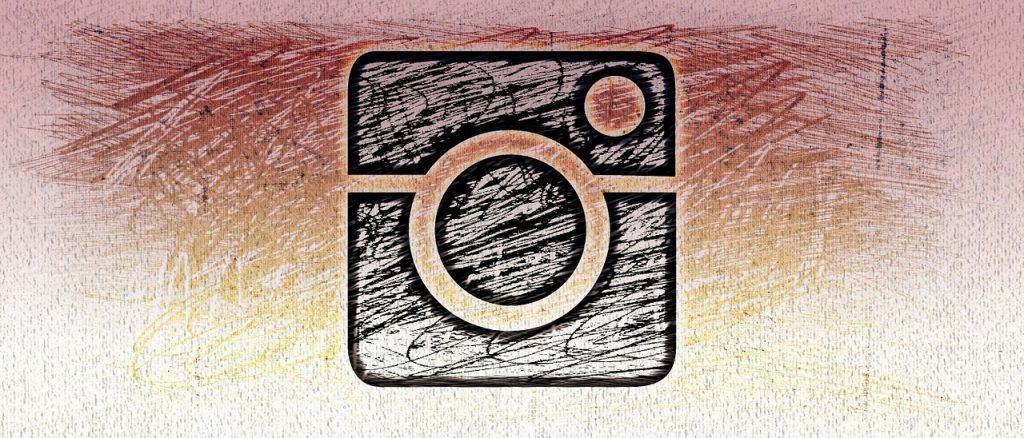 Advantages of influencer marketing at a glance
1. High reach
Influencers wield a wide reach through their social media channels to draw attention to your product.
The high level of credibility, awareness, and expert knowledge of the opinion leaders facilitate the circulation and acceptance of the advertising message.
Thus, Instagram represents a crucial advertising platform to draw attention to your product.
Nowadays, 15 million Germans use Instagram. Some Instagram users want to stay in touch with friends, others prefer to pursue their own interests online.
Furthermore, some Instagrammers want to stay informed about the lives of the rich and famous.
2. Multiplicator function
As already mentioned, a clever marketing concept with influencers can create a viral effect.
The own advertising message is not only shown on the influencer's channel.
Other Instagram channels pick up the message and spread it further. Consequently, they reach people on many channels and purposefully increase the channels' followers.
3. People with similar characteristics follow the same influencer
In contrast to other media, the person responsable can strategically adress the target group. People with an affinity for travel, fashion-conscious people, and vegans can be targeted via specific influencers.
Your target group is thus controllable, which of course, minimizes stray loss.
Increased credibility through Influencer Marketing
Influencer marketing is equally suitable for startups. Not everyone jumps right on the new bandwagon. Even the best product needs advertising ambassadors at the beginning.
As a result, many consumers need to be convinced before using your product.
Influencers' advertising messages can easily convince insecure people.
Ultimately, influencers are the most credible source of product recommendations. Not even magazines and TV commercials can keep up.
29% of all online users, for example, believe that product presentations by influencers are particularly credible.
Which industries are best suited for influencer marketing?
Some industries are still more suitable for influencer campaigns than others in the digital age.
Businesses operating in the B2B sector should analyze initially whether influencer marketing makes sense.
However, companies that supply products to the end consumer can achieve a significant increase in sales with influencer marketing.
The areas of food, travel, fitness, and technology are particularly interesting.
However, this does not mean that other areas do not have a track record of success.
You can also find influencers for agriculture, for example. However, you have to expect a smaller selection of influencers and a much smaller target group.
ReachOn – your specialist for Influencer marketing
We will be happy to take over the realization of your influencer campaign for you. Our employees are trained Instagram experts who focus specifically on influencer marketing. ReachOn has a broad network of influencers who are suitable for your purposes.
Just contact us or fill out the contact form. Then we will discuss with you the exact process.
However, if you are interested in Instagram advertising or Instagram marketing, you can access further information by clicking here.
Influencer marketing campaign process
Many companies are unsure how to proceed with a campaign. It is critical to be systematic to ensure the success of the campaign.
These crucial steps will help in designing your campaign.
Before ReachOn starts the actual campaign, we arrange a phone call with you. This approach aims to clarify your objectives.
In past campaigns, closer coordination has always helped clarify issues.
For example, would you like to sell more products via Instagram, improve your brand image or increase your reach? You can clarify all these issues over the phone or on-site.
You have the opportunity to choose between the following options:
Increase brand awareness
Increase brand popularity
Realize sales increases
Your choice has a decisive impact on your campaign design.
Identify, analyze and approach influencers
In the next step, we take a closer look at your product. ReachOn will then determine how your product can ideally be showcased in the media.
Sometimes it makes more sense to target personalized channels on Instagram, while it makes more sense to target themed channels for other campaigns.
This approach is necessary to encourage the maximum number of people to buy or distribute your content.
Then we get in touch with our network of influencers who fit your product.
In doing so, we clarify the following questions for you:
Quality of the content:
Is the content sufficient for a high-quality collaboration?

Brand:
Is the influencer a good fit for your brand? Can the influencer credibly report on your brand's product?

Follower and Like statistics:
How many followers does the user have? What does the development of the follower numbers look like? Is the ratio of likes to subscribers satisfactory?
We gladly present a shortlist to you to ensure that it fits your corporate identity.
You are welcome to share any requests or concerns you may have regarding the presentation of your product with us.
Negotiate terms & execute the campaign
First, it is essential to clarify the expectations of both sides for the campaign's success. Therefore, you should pinpoint what you want and whether the influencer can support your goals.
The more precisely you specify the terms of the cooperation, the less disappointment you may experience afterward.
To bind influencers more tightly to your company, you should select appropriate financial incentives.
Micro-influencers might be interested in receiving the product solely, while other users prefer monetary compensation.
When drafting the contract, you have to operate between two extremes.
On one side, you should not restrict the influencer's artistic freedom; on the other side, you should set specific conditions for collaboration.
Below you will find an overview of all crucial contractual aspects:
Period and deadline of the campaign
Amount of published content
Rights to use the content
Exclusion of competitors on Instagram
etc.
During the campaign, you should maintain a close rapport with influencers. Due to this reason, your brand should offer support to influencers and respond to all their questions.
Furthermore, you can recognize with which users you may work well together.
Consequently, it is possible to dispense with more difficult personalities in later campaigns.
Campaign analysis
After the execution of the campaign, the work is not yet finished. It is necessary to conduct a detailed analysis.
These conclusions can impact subsequent campaigns, the target audience, and brand awareness development. Several performance indicators can provide insight into how successful your campaign has been.
These indicators are:
Changes in the number of followers (Did an increase occur?)
Like follower ratio
Quality of comments
Earned Media Value:
How much would it have cost to run ads with this reach? Was the influencer able to draw awareness to your product?

Do's and Don'ts einer Influencer Kampagne
Im Influencer Marketing müssen, wie in jedem anderen Bereich, Regeln beachtet werden, um Erfolg zu haben.
1. Find the appropriate influencers
If you want to be successful with an influencer campaign, you have to select the most suitable users.
After all, some Instagram users buy fake followers.
Alternatively, the interaction rate of Instagram users may be too dismal to collaborate with.
Characteristics of a good influencer
An active user
Would you like to have someone who posts regularly on social media? In addition, users comment and press the Like button more frequently.

A user who knows what he does
Devote your attention to the influencers' posts.
Does the person publish everything from a gut feeling? Or does the individual follow a particular strategy or system?
High engagement rate
Collaborate solely with users who receive many likes and comments – compared to the people who follow them.

Do the followers fit your target group?
A collaboration doesn't make sense if the influencer's followers don't match their target audience.

Brand fitting content
Instagram users are only relevant for a campaign if they publish content similar to your brand's field. Hiring a travel blogger doesn't make sense if you sell fashion items yourself.
Have you acquired a taste for it and would like to become an Influencer? Then you can learn more about the next steps here.
So what should you look out for to attract the most suitable people to your campaign?
Only an appropriate strategy leads to success!
When collaborating with people on Instagram, you should always keep a strategy in mind. Just jumping in doesn't make sense. A plan can be a straightforward campaign where the influencer introduces your product.
However, the process can be much more complicated. For example, a user can present the product in a video or host a contest. Furthermore, the company can also take over the user account for a day.
4 things to avoid when working with influencers
Influencer marketing booms. More and more companies are turning to these users. Nevertheless, there are some important points to keep in mind. Otherwise, the hard work will turn out to be useless in the end. Therefore, pay attention now.
Not too many guidelines!
Do not determine the influencer's content to the smallest detail.
Leave creative design options to your collaboration partner.
Often, they know best which content goes down well with their audience.
Micro-influencers are crucial!
Don't forget micro-influencers. These users with 5000 – 50,000 subscribers often have higher engagement rates than the average.
Selecting a user account with fewer followers but higher quality is better.
Never pick more followers if the quality is not up to par. One hundred thousand followers are useless if you only get 300 likes.
Don't forget the influencer search volume!
Don't miss the opportunity to leverage influencer traffic. When Instagram users draw attention to your products and channel, other users search more. Ensure you have high-quality images!
Good relationships with influencers pay off!
Don't underestimate the value of a good relationship. If the collaboration is a success, you should cooperate for as long as possible.
After all, the influencer's bond with the brand becomes stronger. Furthermore, it makes the influencer appear more credible. This has only positive effects for you!
Successful influencer marketing campaigns which inspire you
These days, you hear from everywhere about the elusive strengths of influencer marketing.
According to a new study, 94% of marketers are convinced that influencer marketing is a successful campaign strategy.
I want to point out two highly successful campaigns to show how creative companies design their campaigns.
These campaigns assist in identifying common characteristics which lead to success.
Car brand Mercedes Benz
Most premium brands want to maintain an atmosphere of exclusivity. Nevertheless, paradoxically, these brands want to be perceived as accessible and desirable simultaneously.
Therefore, Mercedes Benz has used influencer marketing to realize these contrasts between accessibility and exclusivity. Through the collaboration with Instagram sensation Loki, this has been achieved.
The campaign demonstrates that the intelligent use of authentic storytelling can contribute to an improvement in brand perception.
Furthermore, the dog Loki helps the brand to strengthen its naturalness and authenticity.
In combination with the snow-covered environment, the customer is alerted to a crucial piece of information:
Customers can use Mercedes Benz vehicles successfully in all weather conditions.

Fiji Water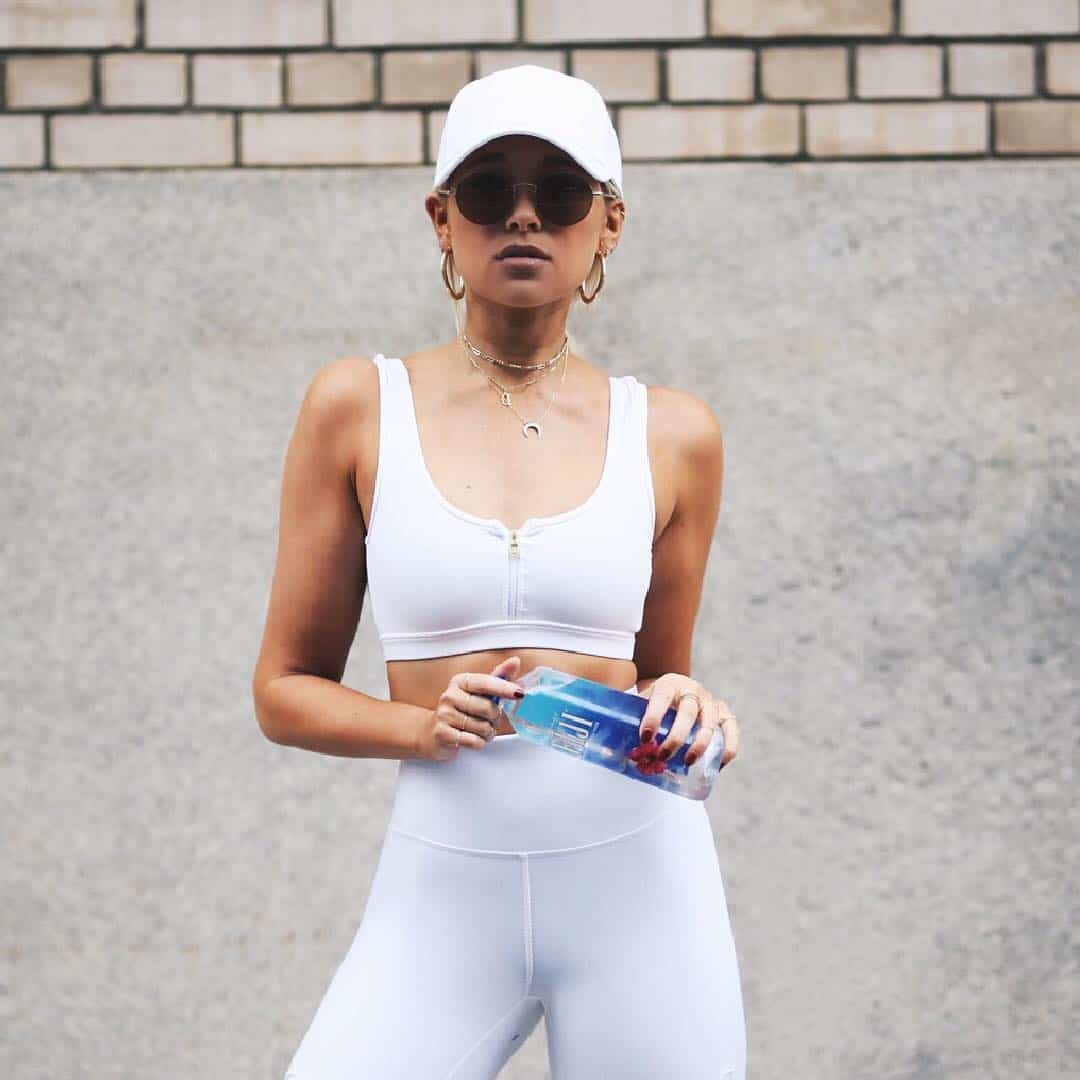 Danielle Bernstein, known for her blog weworewhat, has more than 2.8 million followers on Instagram.
Her personal fashion blog is very successful. Furthermore, she advertises the brand of mineral water Fiji on her food and fitness site Bodyworewhat.
But how does Fiji water fit in with Bernstein's brand? She promotes the water on her fitness page. If you register for a fee with Bodyworewhat, you get a discount on mineral water.
This campaign indicates that you should rely on the creativity of well-known influencers. These people's attitudes towards the brand can create positive effects and inspire completely new target groups.
The attached infographic summarizes the most important influencer marketing tips once again.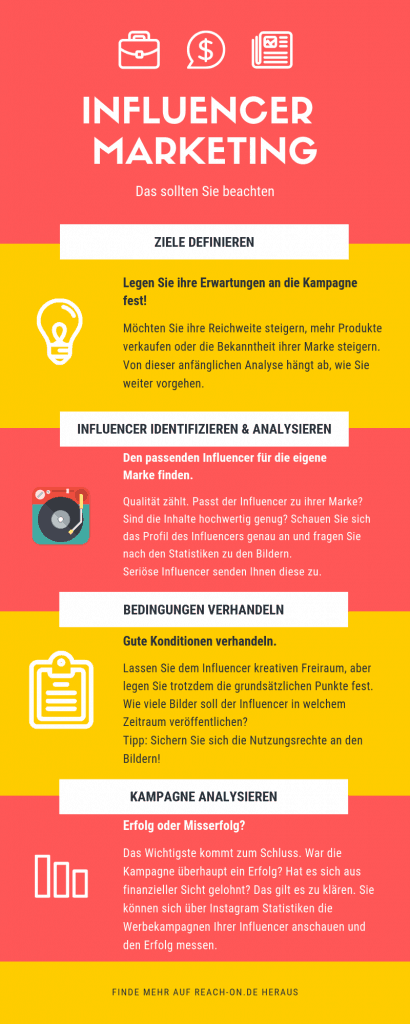 Legal situation
Companies must observe several legal principles when working with influencers. It is not always easy to assess whether posts by influencersadvice or clever marketing for consumers are just good.
For this reason, it is imperative that influencers label collaborations with companies as advertising.
Otherwise, both influencers and companies will violate several legal regulations, e.g.
With regard to Section 3 (3) UWG, a company acts in an anti-competitive manner if it does not clearly label advertising. Thus, advertising must not look like information and be recognizable to end consumers.
§ Section 6 (1) no. 1 TMG mentions that commercial communication in Telemedia must be clearly labeled. Telemedia includes websites, social media platforms, and all offers on the Internet.