What are Instagram Stories?
Instagram Stories are narratives that users and businesses can share on Instagram. This format includes primarily short videos and images. Users can view these clips only for 24 hours. After that, the posts are deleted.
Furthermore, you can select stories to add to your profile. Users can always view these stories. These are Instagram highlights.
Why should I use Instagram Stories?
Instagram Stories are a useful tool. Marketers as well as individuals enjoy numerous benefits.
Spontaneous snapshots can be published on Instagram, among others, without flooding the followers' profile.
Instagram has already confirmed that this feature is for users who post frequently.
However, you also have the option of keeping followers up to date on your everyday life.
Furthermore, you can also draw attention to special moments. A trip to Sweden, the birthday party or company-specific news can be shared.
This increases your bond with your own followers.
These people feel as if they are virtually involved in what happens, even though they may be thousands of miles away.
Furthermore, you may draw the followers' attention to discount promotions or offers.
However, one question remains:
What marketing strategy should marketers adopt in the context of Instagram Stories?
We will clarify this question in the next paragraphs.
How to create Instagram Stories
Start right away. The first steps are easy to implement.
1) Add Instagram story
Case 1: You have not added a story in the last 24 hours
You can add an Instagram Story by pressing the Plus sign on the top left of your screen.
Furthermore, you can see your profile picture and the text "your story" on the screen.
Case 2: You have already added a story in the last 24 hours
If case 2 applies, you have to proceed differently. After all, your previous story is still online.
This means that Instagram will not display the plus sign on the home page.
Tap on your own story. Then the plus sign should appear at the bottom left.
2) Capture a picture or video
When you take pictures or videos, you can choose between different modes.
You can choose between these options:
Text
Music
Live
Normal
Boomerang
Focus
Superzoom
Rewind
Freehanded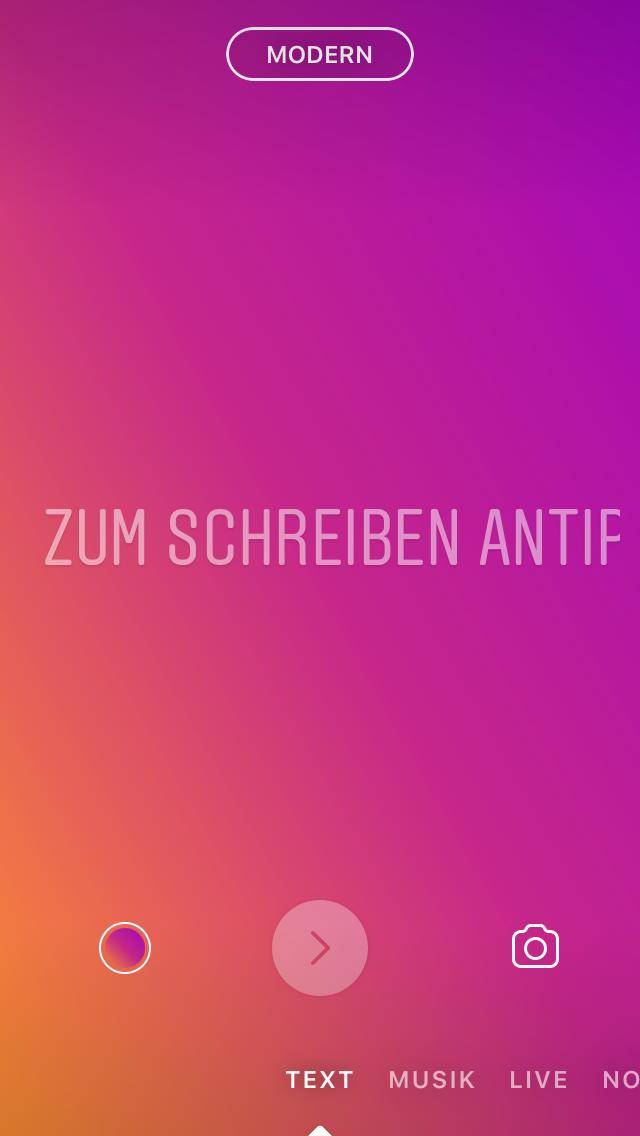 With Boomerang, you can capture a large number of images in a short time. These pictures are then transformed into a GIF loop. A GIF loop is a sequence of images that is constantly repeated.
The Instagram option Focus allows you to take portrait pictures. Focus blurs the background. This is used to highlight the person in the foreground.
Superzoom allows you to zoom in. You select a video area. Instagram will slowly enlarge the area and show it in the video. Furthermore, you have the option to add music to your video.
Rewind plays videos backward. This option is especially interesting for action videos.
Live mode enables you to interact with your followers in real-time. You can then directly address your followers' questions.
8 Instagram Story tips to get you started
Use Instagram stickers
Instagram stickers are a great way to make your content accessible to a wider audience.
For example, it is possible to add hashtags to your Instagram Story. Thus, it is possible that users can find your Instagram Story below this hashtag.
This way, new people can become aware of you. As a result, you gain new subscribers and increase your reach.
You have the option to share your location within the story as well.
Furthermore, you can display polls, the temperature, and the time in your story.
All in all, this gives you a wide variety of fun and exciting stickers to choose from.
Tip: Use especially polls and questions stickers. Stories are a great way to interact with your followers.
Permit users to share your Instagram story
Increase your interactions and reach. How? By letting users share your story via direct message.
You can set it up in the settings. You need to follow these three steps:
Just tap on your profile.
Click on the settings icon.
Select story settings.
Permit other users to share them.
In the future, users will be able to share your stories with friends, acquaintances, and family members. This not only makes you happy but also your users.
Mention other Instagram accounts
It doesn't matter whether you're an influencer or an entrepreneur. Both types of users are dependent on making other people aware of their profile.
You can do this easily by using a sticker to tag the other person's profile in your story.
Upload pictures and videos from iPhone library
Have you thought you could only upload pictures and videos you captured straight away? You thought wrong!
Just scroll through your photo library on your iPhone. Then select the photo you like.
You can already share the latest story with your friends or the rest of the world.
How to find out who views your Instagram Stories
For private individuals, statistics may be just a side note. On the other hand, companies must know who sees their stories.
Just click on your story and swipe up. You'll see who has viewed your story instantly.
If you have started a poll or received reactions (love smiley, like), you can check the results here.
Instagram Stories: Get advice now
Would you like to integrate Instagram Stories into your marketing concept? Whether for companies or your personal brand: We offer advice and create Stories that connect people to you (emotionally).
Contact ReachOn, and we will schedule a consultation with you.