What is Instagram Live?
Live videos are a subcategory of the popular Instagram Stories feature. With the help of the tool, it is possible to start live streams. These live videos are then visible to your followers. Some followers will be notified directly about your live video via push messages.
Your followers can get in touch with you in real-time via comments, emojis, and hearts. Thus, live videos enable a direct exchange with your followers.
You can inform your followers about personal news or offer them insights into your daily work.
However, Instagram Live Videos are interesting for companies as well. For example, products can be presented in live streams. Carmaker Nissan, for instance, streamed the presentation of the Nissan Maxima at the New York Auto Show.
Why should I use Instagram Live videos?
Instagram Live videos offer numerous benefits:
Live videos are more popular than standard image posts
80% of Instagram users following companies prefer to watch a live video instead of reading a blog. In addition, 82% of users prefer live videos from businesses compared to social media posts from firms.
Videos have a higher engagement rate
Video strategies are quite successful on Instagram. For example, videos get 21% more interactions than single images and 18% more than carousel posts.
Direct exchange with your followers
Live videos are the most personal medium for getting in touch with other people via Instagram – apart from video calls, of course. Both influencers and entrepreneurs can present new projects and receive criticism.
When is it worth using IG Live?
Answer the questions of your followers
Instagram Live Videos are often used for Q&As. In the process, your followers have the opportunity to ask you questions. You can then answer them directly in your livestream.
However, you can also inform your followers about personal concerns or upcoming events.
This way, your followers learn more about your life and personality. As a result, your followers identify more strongly with you and become more loyal in the process.
Behind the scenes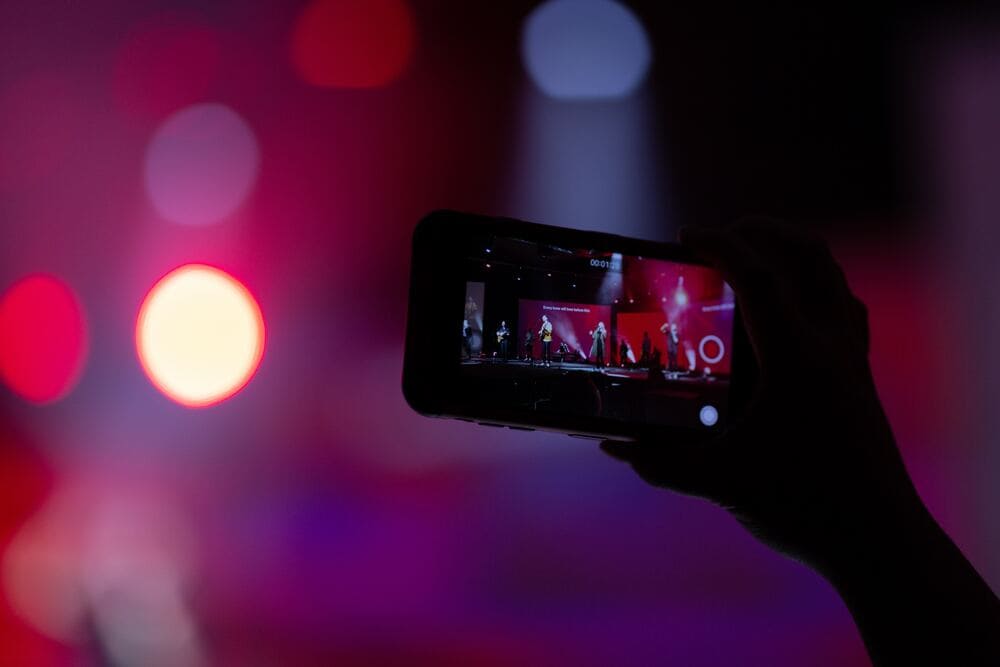 Live videos are a helpful tool to give your viewers a behind-the-scenes look. This glimpse can be your daily work or the backstage area at an event. Users get to see images that are generally not publicly accessible.
Interviews:
Another option to use the live feature is to conduct interviews. In this case, you invite a second person to participate in your live video (see instructions).
Interviews on television, for example, are usually cut and post-edited. In the process, unimportant details or long explanations are cut out from the report.
In contrast, livestreams on Instagram are uncut. In Instagram Live Interviews, viewers get all the details.
Present products:
This aspect is particularly interesting for companies. Nevertheless, influencers can also make use of the function. Live videos offer the opportunity to present new products. In addition, moderators can elaborate on how the products work.
Viewers get first-hand information and can inquire directly about the product. A successful presentation of your products via Instagram Live can therefore significantly increase sales.
How does IG Live work?
How can I view whether other users are live?
When users are live on Instagram, their profile picture appears in the story area. It is colorfully circled and marked as live. If you click on the profile picture, Instagram will take you directly to the live video. Then you can start watching it.
How do I start a live video?
To start a live video yourself, you need to click on "Add Story." After that, the story camera will open.
Then select the Live feature in the lower section. Before the stream begins, you can choose who can see and comment on your video. This occurs in the settings.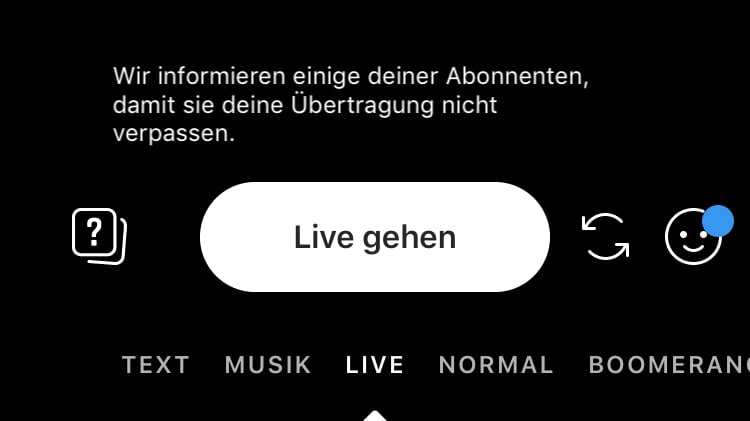 Click on the "Go live" field to start your live video.
Notices for Instagram Live
If you want to start your own live video on Instagram, you should follow these tips:
Determine the video's goal
Before starting the live video, ask yourself the following questions:
Would you like to:
… present a product?
… elaborate on the features of a product?
… respond to your followers' questions?
… interview another person?
… offer your followers a glimpse behind-the-scenes?
Hence, the purpose of your live video arises out of these questions. You should always keep this in mind to avoid straying from the topic.
Determine the common thread
Think about an approximate plan of which topics you would like to cover. However, your guideline should not be too detailed. Otherwise, your live video will look unnatural. This will give your followers the impression of scripted entertainment. This quickly comes across as inauthentic.
Nevertheless, a rough plan is helpful. This way, you avoid pauses for thought and mistakes.
Examine the quality
Using short test videos, you can check the quality of your Instagram Live video. Important questions are:
Is the video sufficiently exposed?
Can your viewers understand you well?
Does the background distract from your stream?
Save the live video
In the settings, you have the option to save live videos automatically. The videos will be added directly to your Instagram Story after the broadcast is over. This way, even users who missed your livestream can watch your video.
During the video
Take a look at the viewer list
Just click the eye icon at the bottom of the screen. Now, you can view who watches your live video. Instagram displays a list of your viewers.
If you frequently use Instagram livestreams, you will undoubtedly recognize some viewers. You can address them directly. Your followers will certainly be happy about shout-outs.
Add a second person
Using the "Add a Friend" function enables you to add a second person to your live video. All you have to do is click on the icon with the two smileys at the bottom of the screen. Now select the friend you intend to invite.
This feature is ideal for interviews. Additionally, it increases the reach of your Instagram live video, since your partner's followers can also watch the stream.
5 tips for better live videos
Tip 1: Announce a live stream
Announce the date and time of your live stream in advance. Promote it on various social media platforms. It is recommendable to develop a routine out of it. For example, you can go live every Saturday at 6 pm.
Tip 2: Integrate your offer in the video
When you include an exclusive discount coupon or offer in your Instagram Live video, your viewers derive additional value from your stream.
Your viewers will recommend your profile for sure. Thus, they will increase your reach. Moreover, your followers will get the feeling that they can't miss out on your live videos.
Tip 3: Pin video title
This feature helps your viewers understand the purpose of your video even if they tune in later on.
Just write a comment with the video title. Then hold down this comment briefly and select the option "Fix comment".
Tip 4: Insert a question sticker
You should add this sticker to your Instagram Story before broadcasting your live video. Users can ask you questions straight away.
You can then answer the incoming questions in your live stream video, and you know right away what you can talk about.
Tip 5: Utilize a face filter
Face filters are funny masks that you can virtually put over your face. Bunny ears, dog filters, and co. encourage your viewers to interact with your video.
After the live stream
Add video to the gallery
After your broadcast is over, you should save your video to your gallery.
On the one hand, you can rewatch it and think of ways for improvement. On the other hand, you can share the video across distinct platforms to further increase the reach of your content.
Review your Instagram Direct Messages
Not all users will comment on your live video. Some followers will use Instagram Direct Messages to ask you questions.
Therefore, check your messages after the stream has ended. You should reply to your followers as soon as possible so the topic of your live stream is still relevant.
Compare your live stream with previous versions
You can analyze your progress when comparing the viewership and interaction rate of your Instagram Live videos.
After that, you can also conclude which content is particularly popular with your followers from the audience figures. Should you instead answer questions or offer insights behind the scenes of an event?
Conclusion
Instagram Live Videos are a helpful tool to convey information straight to your followers. With the right tips, you can distribute successful live videos on Instagram without complex and expensive productions.
Furthermore, live streams offer a good break from your standard posts. They encourage your viewers to interact further with your profile.
If you use live videos skilfully, your followers will become better acquainted with you. Thus, you will build a loyal fan base.