Instagram foundations for companies
More than 800 million people use Instagram to get information, exchange ideas with friends, and find interesting products every month. Instagram Shopping is one of the many exciting functions on Instagram.
According to Instagram:
640 million users follow active business profiles
200 million users visit business profiles once or several times a day
Instagram Shopping plays a crucial role in this.

Instagram Shopping allows users to make purchases directly through Instagram in a simple and straightforward manner.
For this reason, the social media platform has enormous potential for businesses.
Nevertheless, most companies are not sufficiently familiar with the sales opportunities on Instagram.
Therefore, this article aims to inform you how to help your business turn followers into buyers.
Why should you use Instagram Shopping?
Quite simple. The whole thing is free and allows your company to target users who are already interested in your products.
Furthermore, it simplifies the sale of products. Previously, you could only draw attention to your company website via the link in the profile description.
Now, followers need to click on the buy icon in the post. Then Instagram will display prices and further information.
With just one click, you will be redirected to your website.
Moreover, Instagram is suitable as a virtual storefront that clarifies what your company stands for to users.
Set up Instagram Shopping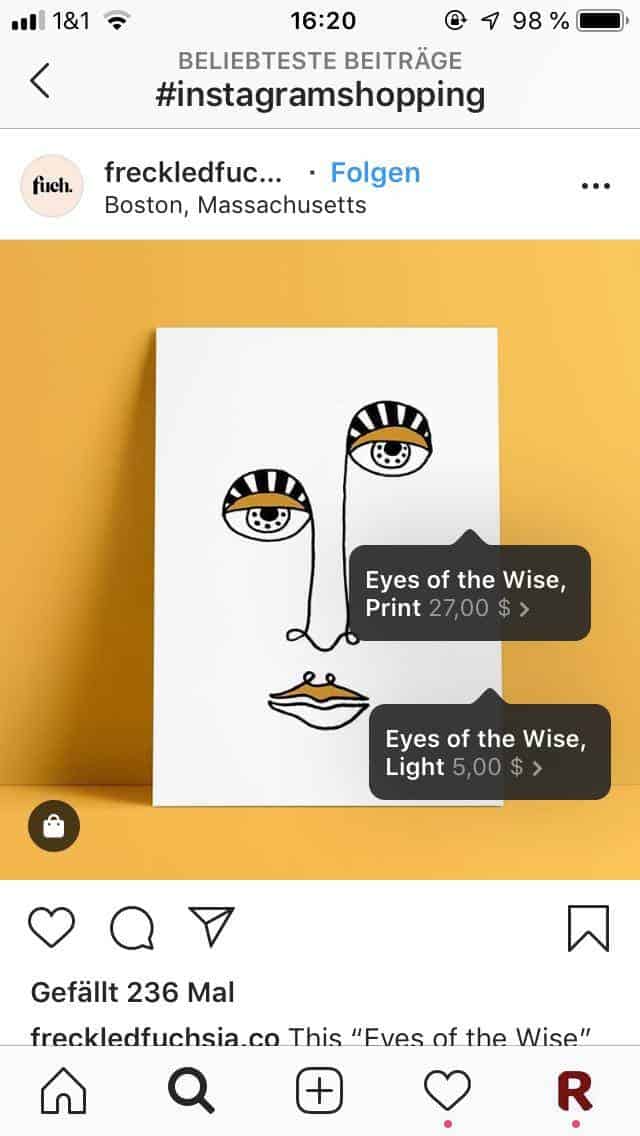 Are you ready to get started with Instagram shopping? Then let's tackle it right away. First, we need to verify that your account meets the requirements.
Some of these requirements are:
Your company must be one of the 46 approved countries for Instagram Shopping. This includes all EU countries, the US, Canada, South Africa, and many more.
A business account is mandatory. You can read online how to convert your profile from a personal to a commercial version. In doing so, you need to create a Facebook page to connect to your Instagram profile.
You need to create a Facebook catalog for your business by setting up all your products. This is the only way to tag your products in the post subsequently.
If your business meets these requirements, all you need to do is publish the Facebook product catalog.
Tips for more success with Instagram shopping
Now that you have set it up, I would like to turn your attention to the proper use of Instagram Shopping.
These tips and tricks will help you optimize your conversion rate on Instagram to sell more products ultimately.
Among other things, I will discuss the amount of Instagram shopping posts, the appropriate hashtags, and some additional tips and tricks.
Use appropriate hashtags
After you enable Instagram Shopping, your followers will already see the tagged products. However, you must not disregard another source of income. These are Instagram users who don't follow you yet but might be interested in your products.
For this reason, you should use hashtags. By using hashtags, you ensure that interested users will find your product.
You should ask yourself the following questions to find the appropriate hashtags for your post:
Which product is shown in the picture?
Does the product have a unique selling point that many people are looking for?
Can your product be associated with a particular trend/season (e.g., Christmas)?
Let's assume for a few seconds that you sell shoes.
What would be appropriate hashtags in this context?
#shoelover?
Be specific. The more specific you are, the better you can reach your target group.
If it's a shoe of a particular brand or color, it's worth using a hashtag for it. (e.g., #Gucci, #redshoes)
Even if the shoes are especially interesting for a specific target group, hashtags are worth using. For example, you can resort to such hashtags if it is a fashion accessory.
Limit Instagram Shopping posts!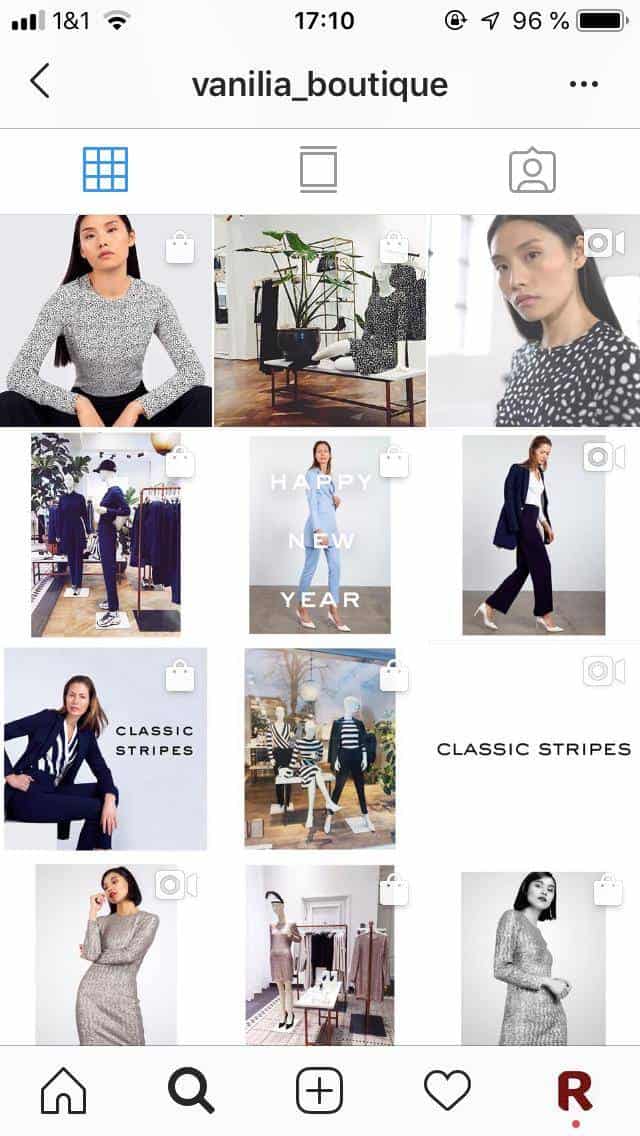 As I mentioned above, the Shopping feature turns your Instagram profile into a virtual storefront.
Would you cover your own business with advertising on every corner?
The answer should be obvious. Hell no, you wouldn't. Therefore, you should handle your virtual store on Instagram similarly.
For this reason, I have the following tip for you. Use the function in moderation and do not try to mark products obsessively.
This rapidly comes across as dubious. Furthermore, users will turn away because they will only see ads.
For this reason, I would recommend 1 to 2 Instagram shopping posts per week. However, this is only the case if new content is published daily.
If you want to see how you shouldn't do it, look at the picture above. Almost every post was tagged with products. Does that still seem legitimate to you?
Shopping posts must match the current feed!
You've probably already published a few posts on Instagram. But even if you are new to Instagram, you should pay attention to your Instagram profile design.
Any shopping content must match your corporate design.
The best shopping posts are pieces of content that are indistinguishable from the rest of your Instagram feed – aside from the tagged products, of course.
When these posts integrate naturally into your feed, it has two distinct advantages:
Your audience has become comfortable with the previous design. They are not irritated when they gaze upon the same format.
The highlighted products appear as recommendations. If the design differs strongly from the original format, this will be perceived as advertising to a greater extent.
Plan generous spacing between product markings
I'll share one important note with you right up front: The space on your smartphone is small.
This seems obvious at first, but many business owners forget to plan for gaps in product markings.
Otherwise, it is not possible to display all the information about the product. This includes the link to the product page as well as the price.
Furthermore, it is quite possible that users do not recognize exactly to which product the marker belongs. Then prices and links are no longer identifiable.
Use carousel posts!
Instagram shopping and carousel posts stick together like peas and carrots. Why? Using this post type allows companies to highlight a maximum of 20 products in up to 10 images.
Hence, users can click through a large part of your assortment with carousel posts.
This way, you draw attention to many products in one post that appeals to your entire target audience.
This increases your chance to sell products and draw attention to newly released articles.
For example, you can use it to draw attention to your collection or a limited campaign, e.g., on Valentine's Day. In addition, this function is suitable if you want to advertise specific groups of articles.
Then we would be back to the example. With carousel posts, you can target this category.
Does the link to the article work?
As we all know, a mishap can quickly happen to any user. Therefore, it is all the more crucial that you check the links.
When users click on the buy icon in the post, they will be redirected to your website.
It becomes problematic if the link does not point to the correct url.
Therefore, you should always check a second time if Instagram redirects customers to the right page.
Otherwise, you may quickly lose essential customers.
User-generated content
In particular, influencer content can be used to promote your own products. Influencers are often willing to re-share the post in the story.
Furthermore, user-generated content has the advantage of customers being able to identify with the brand. This occasion happens because clients are the mouthpiece for the company.
In addition, the publishing of user-generated content positively affects the customer. The company is perceived as customer-friendly.
Even for people who are not yet familiar with the company, this may positively impact sales.
Attention: Always obtain users' consent before publishing the post on your profile.
Use Instagram story videos to showcase your product
Instagram offers you the possibility to present your products in Stories. Just use the shopping stickers for this purpose.
The videos have the benefit that you can promote all the features and details of your product.
This format is especially suitable for fashion and jewelry companies. Furthermore, this is an interactive way to show your product from all sides and encourage the customer to purchase.
Influencer Marketing
After the Instagram shopping setup is complete, it might make sense to direct users to your profile via influencer marketing.
Sales are made quickly through the influencer's traffic since the buy icon has been integrated into the posts.
Furthermore, users no longer have to click on the link in the profile description. Weiterhin müssen Nutzer dann nicht mehr umständlich auf den Link in der Profilbeschreibung klicken.
In this case, Instagram redirects these users directly to the product page. The effect is that more sales can be realized quickly.
Use Instagram Insights or another analytics tool
Instagram Insights is worthwhile for every company. Statistics on the images, including interactions and reach, can be accessed.
However, for Instagram shopping, the tool is crucial for another reason. You can see which products work on Instagram.
Indeed, you will undoubtedly notice that some products are more interesting for your target audience.
Then you have the opportunity to promote them more on your site. This simplifies the sales increase in a targeted manner.